"For 20 years, Meramec Bluffs has stood as a shining example of what excellence in the aging journey looks like, and I can't wait to see what the next 20 years will bring," said Adam Marles, CEO and President of Lutheran Senior Services (LSS), at the recent Meramec Bluffs 20th Anniversary celebration.
The celebration was "a good example of the positive relationship between the residents of Meramec Bluffs and the leadership and staff," said 20th Anniversary Committee Chair Mary Anne Wehrle.  "This atmosphere of mutual respect and shared purpose of making this a good place to live says it all."
The celebration event featured a live band, cocktails, and dinner, with comments from Marles, LSS Director of Mission Integration Travis Scholl, Lifestyle Enrichment Director Margaret Cox, Wehrle, and Meramec Bluffs Mayor Elect Merle Freitag, who also authored a book about Meramec Bluff's 20-year history.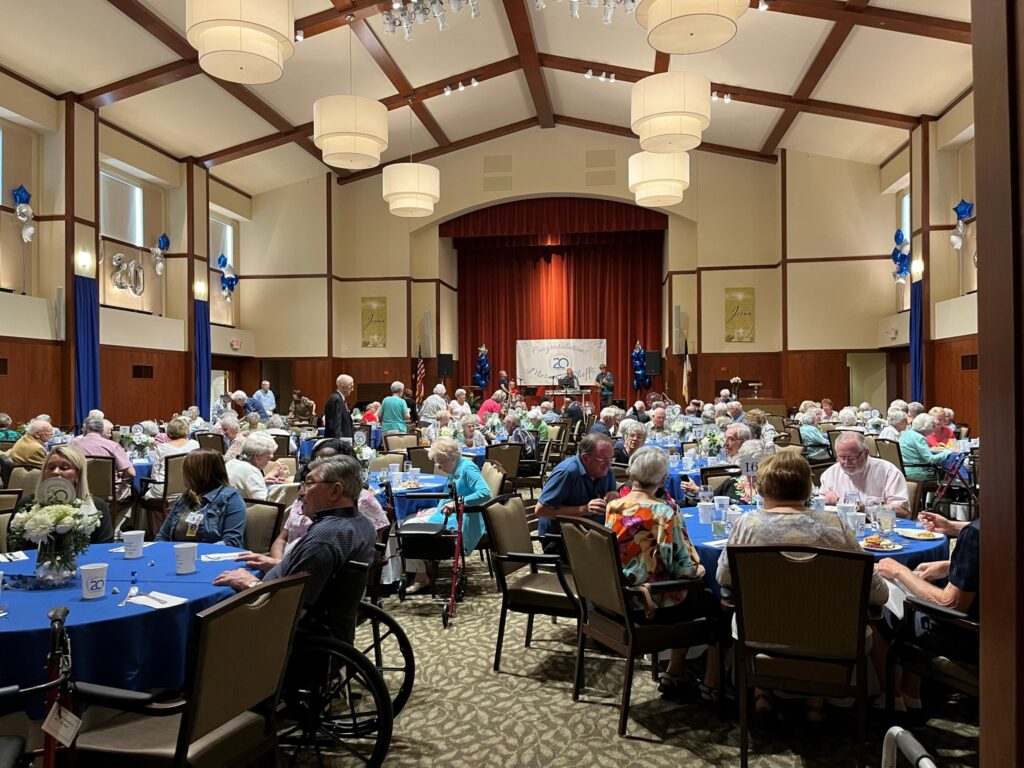 The event marked not only a milestone for the Meramec Bluffs community, but also for LSS, as this was the first Life Plan Community that LSS built from the ground up. The lush 51-acre site above the Meramec River was purchased in 1998 and developed in phases with the first residents moving in in 2002. Today it boasts all levels of living, from patio homes, independent living apartments, assisted living, and memory care to long-term care and short-stay rehabilitation care.
Beyond the beautiful setting, it is the people who truly make Meramec Bluffs a special community. "I'm always impressed at how well staff and residents interact. They work together to make an already great place even better. This relationship is what makes our community strong." said Lynne Spriggs, Meramec Bluffs Executive Director.