Short-Term Rehabilitation for Seniors in Missouri and Illinois
REACH Home Faster
REACH Short Stay Rehabilitation is a comprehensive approach to recovery and rehabilitation services following surgery, illness, or injury. Open to patients of all ages, including seniors, our welcoming setting allows you to work hard and rest well. With a team focused on person-centered care, we'll work with you and your family to prepare a personalized plan to help you achieve your goals in our state-of-the-art physical therapy gyms. REACH guests also enjoy complete access to the full host of amenities available at each of our communities.
To learn more about our REACH philosophy or to schedule a tour at a Lutheran Senior Services REACH Short Stay Rehab site near you, complete our Contact Us form.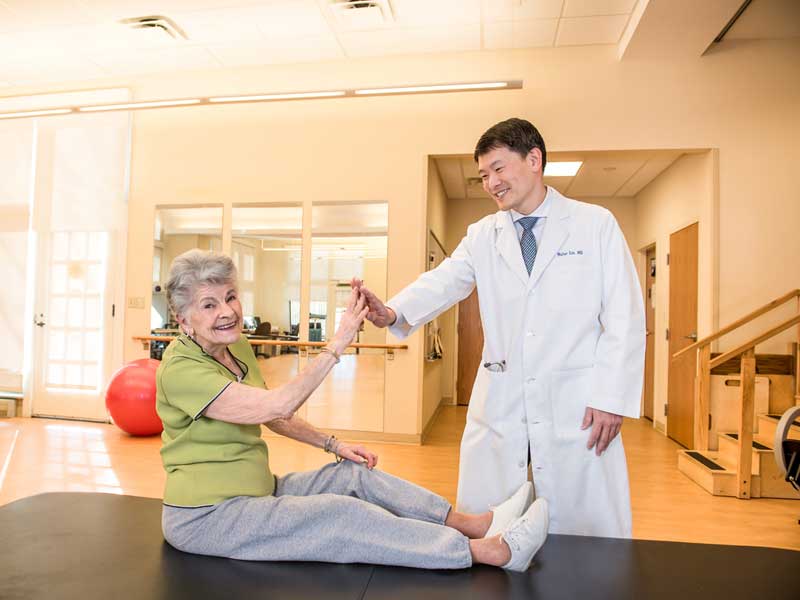 Our specialized approach includes:
Interdisciplinary expertise from a team that includes licensed nursing, therapy, nutritional management, social services, and spiritual care
Physical, occupational, and speech therapy provided in accordance with your care plan
A focus on improving activities of daily living to your highest potential
Personalized meetings to set goals and prepare for a successful transition home
A sample of services and therapies offered:
Cardiopulmonary rehabilitation
Cognitive therapy
Dysphagia (swallowing) therapy
Dysphasia (communication) therapy
Fall management and balance training
Home management skills
Home safety assessment
IV therapy
Urinary incontinence and pelvic floor retraining
Lymphedema management
Neurological rehabilitation
Orthopedic rehabilitation
Pain management
Respiratory therapy
TPN administration
Wound care
Edema control
Facts to consider

Less than 15% of REACH short stay rehab guests return to the hospital during their course of care.

An average of 18 days is needed to reach individualized therapy goals.

96% of REACH Short Stay Rehab guests would recommend Lutheran Senior Services.
A Leader in Value-Based Care
In 2018 Lutheran Senior Services completed our participation in the Center for Medicare and Medicaid Services Model 3 Bundled Payment for Care Initiative (BPCI). In partnership with Remedy Partners, Lutheran Senior Services demonstrated the ability to be a top performer in the nation in delivering value based care in our REACH Short Stay locations.
To learn more about short stay rehab, visit our Helpful Resources page, or talk to one of our Clinical Liaisons by emailing REACH@LSSLiving.org.
Hear from other REACH guests