St. Louis, Missouri, July 22, 2022 – Lutheran Senior Services (LSS) has been recognized in the 2022 Healthiest Employers of St. Louis, an awards program created to honor people-first organizations that prioritize the well-being of their employee population.
LSS, which was ranked #1 in the size category of 1,500-4,999 employees, is one of the largest not-for-profit senior living providers, also offering home and community-based services and affordable housing alongside senior living communities. With communities throughout Mid-Missouri and southern Illinois, their mission is to provide seniors with the opportunities to live their fullest lives.
Companies were recognized because of their commitment to workplace wellness and their exceptional health and benefits offerings. Increased flexibility, work-life balance, and mental health resources have proven to be common trends among Healthiest Employers honorees, and LSS recently enhanced their support for healthy work-life balance by introducing paid family leave on January 1.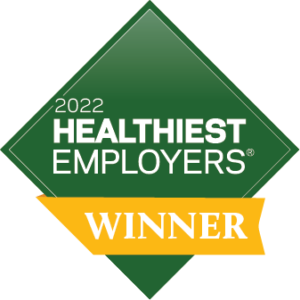 Through the wellness program at LSS, employees and their families are improving their health through engaging proactive, and preventive healthcare options. Employees can receive an average of $2,700 per year in premium discounts for completion of biometric screenings and engaging with their primary care physicians. Additionally, employees appreciate the support of on-site chaplains, who provide immediate support and counseling as well as serving as liaisons to connect staff with our Employee Assistance Program professional counseling services by text, phone, or in-person. This helps employees effectively manage stress, depression, and anxiety while on the job.
"It's really satisfying to see how our health plan members are now visiting their doctors for preventive care at a greater level than our peers," said Denis Thien, Director of Benefits and Compensation at LSS. "Nothing excites me more than to know our talented staff are healthier today than they were when they joined the LSS team. Our staff does much to care for our residents, it's wonderful to see them taking care of themselves as well."
Award applicants were evaluated across six key categories: Culture and Leadership, Foundational Components, Strategic Planning, Communication and Marketing, Programming and Interventions, and Reporting and Analytics. Completed assessments were ranked with the proprietary Healthiest Employers® Index, a 1-100 rubric for wellness programming. The survey is scored and powered by Springbuk, a health intelligence platform that simplifies data-driven decision-making with an intuitive user experience, predictive modeling, and curated action steps.
Lutheran Senior Services (LSS) is a mission-driven, not-for-profit network that specializes in housing, care, and supportive services for older adults 62+. With 19 locations in Missouri and Illinois, LSS serves more than 13,000 seniors a year through options that include Senior Living Communities offering all levels of living, Affordable Housing for those with limited incomes, and Home & Community Based Services. LSS builds upon more than 160 years of excellence in living out its Christian mission of Older Adults Living Life to the Fullest.