By Roxanne Hinkle, BSW, Administrator of independent living with 35 years in senior living and services
When helping your loved one through their aging journey, there are many difficult conversations you'll need to have with them and with other family members. There are strategies you can use to start these conversations and to handle them with confidence in a tactful manner. With some preparation, you'll be able to help guide your family through these changes.
It's important to give these conversations time if you can, there are many possible solutions to your loved one's care needs that can be considered such as if it's time to look into senior living communities or getting in-home help. If you are working with siblings on this issue, clear communication is extremely important. Here are a few tips:
Try to accept your siblings and your parents as they really are, not who you wish they were.
Families are complicated and never perfect. There are no "shoulds" about how people feel.
Do not over-simplify.
It's easy to assume that you are right and your siblings are wrong. Each person has a different relationship with your parent, and each person's outlook is bound to be different.
Ask yourself what you really want from your siblings.
Before you can ask for what you want, you need to figure this out. Ask yourself whether you really want help or if you would just like more support.
Watch how you ask for help and steer clear of the cycle of guilt and anger.
Avoid making your siblings feel guilty. Try to listen to concerns without judgment and consider whether it is useful feedback. Ask for appreciation for all you are doing and remember to say thanks back when someone is helpful.
Get help from a professional outside the family.
Even the healthiest families can sometimes use the help of an objective professional. Family therapists, social workers, geriatric care managers, physicians, or clergy can help siblings establish what is real about a parent's health and needs.
In addition to starting a family discussion, this is also a good time to take stock of the resources available to you, your loved one, and your family. You should consider what family members are close by; friends who could help during this time; support groups to turn to; pastor and church members who could assist; health practitioners to get input from; and community services that are available.
When you talk with your older loved one about a potential lifestyle change, it's important to give them as many options as possible and to give them as much control as you can. One strategy is to suggest they "give it a try" when it comes to getting a little more help around the house. This doesn't make the decision final and gives them control.
By keeping communication within your family open and thinking of the different personalities, you'll be able to help your loved one and your family members navigate this part of the aging journey.
This blog is part of a four-part series on helping your loved one navigate their aging journey. Click to read other blogs, including:
Signs to Watch for to Help Your Aging Loved One
Helping Your Aging Loved One get Legal Affairs in Order
Options in Senior Living – What's Available and What Questions to Ask
Author Bio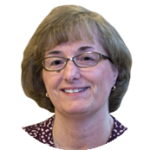 Roxanne Hinkle is the Administrator of Independent Living at Lutheran Senior Services. Roxanne has a degree in social work and has been a licensed nursing home administrator for more than 30 years. She has vast experience in having difficult conversations with loved ones, assisting both families and their loved ones in figuring out what works best for each person.