VOYCE honored exceptional individuals in the field of caregiving at the Caregiver Awards Luncheon. During the annual event, VOYCE (formerly the Long Term Care Ombudsman Program) recognized staff and volunteers who demonstrate excellence in person-centered care. A total of 18 local caregivers were given awards for embodying the voice of compassion by doing an outstanding job caring for and respecting the rights of those receiving long-term care. This included both Teresa Brosch, CNA from Meramec Bluffs and Rose Grey, LPN from Meramec Bluffs.
Read more about Teresa and Rose and how they've provided exceptional care to residents: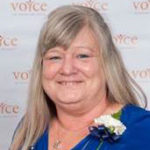 Teresa Brosch
Teresa prides herself in taking time to understand how to care for each of her residents' specific needs and wants. She is kind and compassionate with all her residents. She calms and soothes even her most challenging residents. Teresa stands up for each and every resident. She greets them all with a smile no matter how bad the day maybe. Teresa makes it a point to be here and leave the rest of the world behind no matter what may be going on, to give the best care possible to her residents. Teresa knows the "little things" that make the world of difference to each and every one of her residents.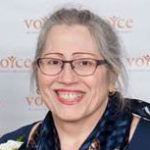 Rose Grey
At Meramec Bluffs, Rose works in our Memory Care neighborhood. She treats each resident as if there were he own mother and father. She understands that each resident is someone's loved one and should be treated with respect, dignity, compassion, and empathy. Rose takes extra time to be with each resident so they can feel loved and cherished. She's known as "Momma Rose" by many of the residents for the way in which she watched over them all and does whatever she can to provide service excellence in meeting their needs. Everyone she works with knowns that Rose is an awesome team player.