A resident admires a page with brightly colored, twisting lines that she painted using pulled-string art. She's impressed with how beautiful this simple piece of art that she made is. Another resident hits a large ball with drumsticks keeping time to music. After the drumming class, he's moving better than he did before. Both of these residents, and many others, are benefitting from art and music therapy, which get them engaged, give a sense of accomplishment, and much much more.
Art and music therapy for older adults is a newer department at Laclede Groves, a Lutheran Senior Services Life Plan Community in Webster Groves, Missouri. Music therapist Emily Sitzes started the Music Therapy program in 2019. While she admits that what she and residents are doing during her session looks like fun (and it is fun) there are many benefits for the residents as well.
Sitzes carefully plans each of her sessions depending upon the group she's working with. She has goals for each session built around cognitive, communication, social, emotional, and physical behaviors. She helps residents accomplish these behavioral goals through sessions such as group sing-alongs, Drums Alive, Music and Movement, and also one-on-one music therapy sessions.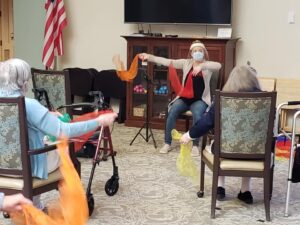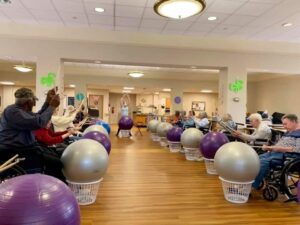 "Music therapy is scientific and creative at same time," explained Sitzes. "It's creating interventions with residents to accomplish individual goals in a therapeutic relationship."
Through Music and Movement classes, Sitzes uses music to motivate residents to keep moving. This music therapy class is about maintaining the range of motion that older adults have. She adapts each class and each movement for all abilities.
Sitzes also using reminiscing to increase socialization and communication in her music therapy classes to promote recall. Themes are based in reality and are often seasonal tying into holidays.
One especially moving example Sitzes shares shows how music can help the other parts of our brain work. The resident she was asked to work with was living with memory impairments and had lost the ability to speak clearly. Sitzes recalls how frustrated the resident would get because they had the thoughts but couldn't communicate them. Their spouse requested one-on-one music therapy and told Sitzes that the couple had enjoyed singing folk tunes together. During their sessions, Sitzes and the resident would often sing "Home on the Range" and the resident's voice could be heard clearly down the hall. Their spouse said that after music therapy was the calmest and most communicative they were able to be.
"It's amazing how music can affect people," added Sitzes. "Music is processed in multiple parts of the brain not just one. Its's connected to memory, movements, and more. Because music is in multiple spots throughout the brain it can override deficiencies the brain is struggling with."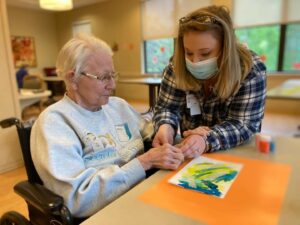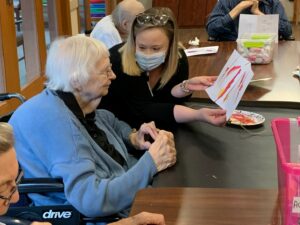 Art therapy – think painting, pottery, coloring – also helps older adults in numerous ways. Leah Yurchuk, Laclede Groves art therapist, started the Art Therapy program in 2020. She works with all levels of living. Communication is one area that Yurchuk works with residents on during her art therapy sessions.
"Because art is another form of language, it helps with communication and socialization," added Yurchuk. "For some residents with memory issues, cognitive issues, or other impairments, it can be difficult to communicate. Art provides them with a beneficial form of self-expression. Residents in Assisted Living and Independent Living benefit from this too."
While working on an art project, residents will often reminisce and share memories of doing crafts or baking with their children and grandchildren. Participants also enjoy the calming, therapeutic nature of art class that comes with the added bonus of getting to be creative. Yurchuk has many residents who are surprised that they can be creative and create works of art. After completing a project, she will hold it up and step back so the resident artist can view their work.
Getting to see a completed work of art and enjoying the steps to make that work are key parts of the Opening Minds through Art program that Yurchuk will soon be restarting with residents in Memory Care Assisted Living. This program is a step-by-step painting project that residents complete over several weeks. At the end, they select framing and hang the artwork for family members to come see.
"Opening Minds through Art tries to instill that there is no failure," explained Yurchuk. "It's your own creativity, your own project. It's so satisfying for residents to see their work framed and on display at the end of the program."
While the Music and Art Therapy programs are fairly new at Laclede Groves, Sitzes and Yurchuk plan to continue to grow their offerings. They want to help even more residents communicate, socialize, and benefit from the fine arts.
To learn more about Laclede Groves, including how to set up a tour, visit the Laclede Groves web page.
More about Emily Sitzes
Emily is a Board-Certified Music Therapist with a minor in Psychology from Maryville University. She has clinical experience ranging from early childhood to end of life. Emily is proficient in piano, guitar, ukulele, and voice. She established the Music Therapy program at Laclede Groves in 2019 and now reaches all levels of living through group, one-on-one, and virtual music therapy. Emily conducts Drums Alive, Music and Movement, and Sing-Along groups that address the physical, cognitive, social, and emotional needs of residents. She also manages the Music and Memory iPod program and coordinates music volunteers to visit with residents. Emily is eager to expand the Music Therapy program at Laclede Groves and further connect the community through her passion for music.
More about Leah Yurchuk
Leah received a Bachelor of Arts degree in Art Studio with a focus in Graphic Design from Southern Illinois University Edwardsville. She is a certified Opening Minds through Art Facilitator, which focuses on people living with dementia, and an Expressive Arts Educator. Leah has studied sculpture, ceramics, metalsmithing, painting, drawing, surface design, textiles, art history, and graphic design. Throughout her training, she has done commissioned work and various art and design consultations. She created the Art Program at Laclede Groves in August of 2020. Since then, the program has extended into all levels of living. Art Program activities include art engagement groups, art history presentations, art discussion groups, Opening Minds through Art, one-on-ones, and other art related classes. Leah looks forward to growing the Art Program at Laclede Groves and finding new innovative ways to reach and captivate all residents!