Getting a little dirty by gardening offers health benefits to gardeners of all ages. But older adults can really benefit from spending time in the garden as it lowers blood pressure, provides exercise, improves motor skills, relieves stress, and helps with much more. Because of this extensive list of health benefits received from gardening, many senior living communities install some form of community gardens.
Beautiful outdoor spaces are key to many Lutheran Senior Services (LSS) communities as are the community gardens featured at several LSS communities. These outdoor spaces give residents and their visitors places to enjoy fresh air and when there's a garden even more opportunities for health benefits.
6 Ways Gardening Promotes Better Health in Older Adults
In addition to providing tasty vegetables and lovely flowers, gardening offers health benefits especially for older adults. These benefits include lower blood pressure, exercise, memory care, motor skills, social benefits, stress relief, and improved immune system. So, while aging does have its challenges there are ways to combat potential issues. Read on to learn how gardening is one of those activities.
Gardening activities alleviate high blood pressure.
Digging, watering, weeding are all movements regularly required to cultivate a garden. These are also activities that provide light exercise. Getting regular exercise helps to lower blood pressure and a garden that needs tending to can provide an excellent outlet for exercise.
Cultivating plants offers an enjoyable, moderately intense exercise.
Even people who don't enjoy exercising can forget that they are getting some good exercise while gardening. Digging holes to plant seeds or plants, carrying gardening tools, watering seedlings, pulling pesky weeds, and cutting flowers or harvesting vegetables are all gardening tasks that need to be done to care for a garden. These are all also tasks that provide gardeners with great exercise.
Horticulture therapy provides a form of effective memory care.
Exposure to gardens and opportunities to participate in simple gardening tasks have been shown to help older adults living with early to mid-stage Alzheimer's disease or other memory impairments. Gardening and having time outdoors improve sleep cycles, lower agitation, and decrease isolation among older adults who live in Memory Care Assisted Living.
Gardening maintains sensory awareness and motor skills.
Gardening requires some dexterity especially the use of hands. This activity helps to maintain and even improve motor skills. In addition, many senses are used and awakened through gardening, which is helpful in promoting sensory awareness.
Gardening group activities foster social benefits.
Many things are more fun in a group and gardening is one of those activities. By working together, a group can make a big garden project easier work and build bonds while doing it. Social activities are especially important as people age as being socially active helps to improve emotional, intellectual, and physical wellness.
Gardening relieves stress and boosts the immune system.
Being outside and active are important parts of gardening. Time spent in nature can be therapeutic in many ways for older adults. Stress relief and improved immunity are two more benefits that can come from gardening.
Gardening Tips for Seniors
While there are many potential benefits to gardening, it's important that, like any activity, gardening is done safely and carefully. If older adults will be undertaking more than light exercise, it's especially important to consult their primary care physician before starting a new routine or regimen.
While gardening is light exercise, it's a good idea to do a little gentle stretching to warm up before getting dirty. Stretching and preparing the hands is especially helpful. In addition, carry a water bottle to stay hydrated. Even on cool, cloudy days it can be easy to get dehydrated when working outside. Another important item to remember to use is sunblock and a hat that protects the face from sun. Again, even overcast days can lead to sun exposure.
People who have outdoor allergies or seasonal allergies should remember to take any allergy medication before getting into the garden and if allergies are severe carry any medication with them. Gardeners should also select their tools thoughtfully. Lightweight gardening tools will be easier to use instead of heavy tools.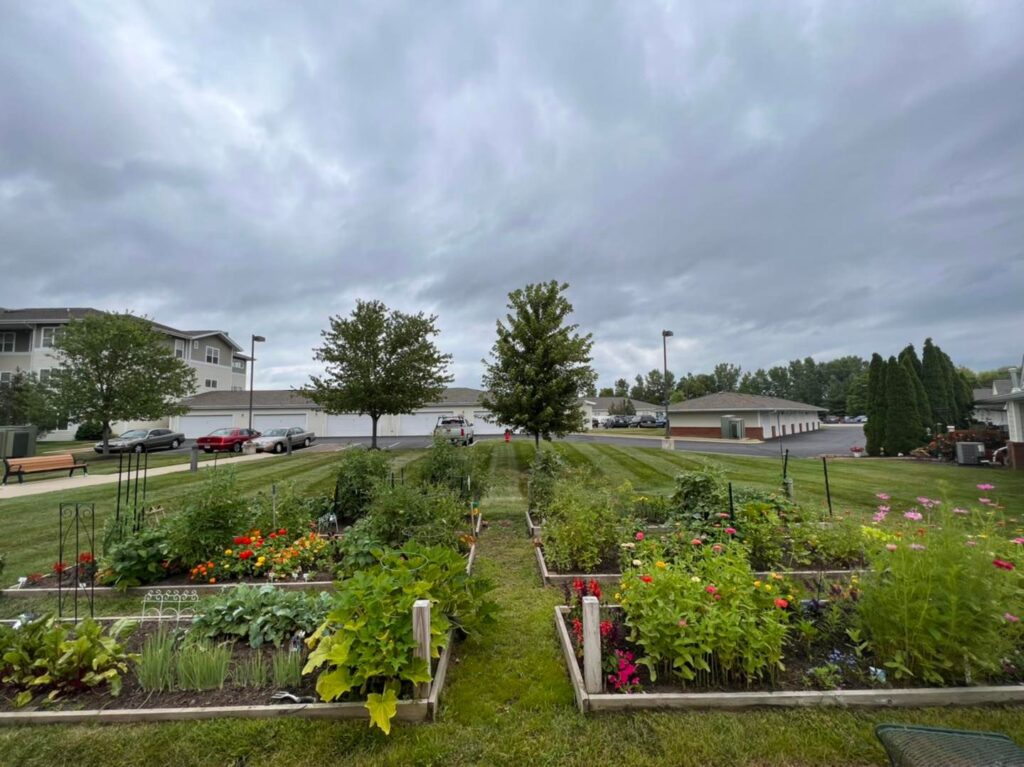 Conclusion
There are so many benefits to gardening for older adults. The size of the garden doesn't matter – the benefits will still be there! Many LSS communities have gardens or gardening activities.
At Lutheran Hillside Village, an LSS Life Plan Community in Peoria, Illinois, the garden is a resident-led activity. Laclede Groves, an LSS Life Plan Community in Webster Groves, Missouri, has a community garden as do LSS Life Plan Communities Concordia Village, located in Springfield, Illinois, and Meridian Village, located in Glen Carbon, Illinois. LSS income-based Affordable Housing Community Village at Mackenzie Place has a raised bed garden for residents.
To learn more about LSS communities that help older adults live life to the fullest, visit the LSS communities page.