This is part of our Story series. Read more LSS Stories.
Bill and Jeanie Olson have done things their own way since getting engaged in 1953 and married 10 months later in July of 1954. And that's obviously worked for their 65 years (and counting) of marriage. As Bill says, the story has a happy ending that they're still working on.
The couple, who now reside at Lutheran Hillside Village, a Lutheran Senior Services Life Plan Community in Peoria, Illinois, met when Jeanie was in college and Bill was on a submarine base. After a few weeks together, they agreed it was time to meet the families. Shortly after, Bill left for the West Coast to continue his service in the Navy and Jeanie remained on the East Coast. But after just six weeks apart, Bill called Jeanie from a payphone in San Francisco and asked her to marry him.
"I said yes!" said Jeanie. "Then Bill was deployed to the Pacific Rim and I went back to school. By Christmas my engagement ring arrived in the mail from him."
Yes, Bill mailed Jeanie her engagement ring while he was stationed on a naval base in Hawaii. He insists he wasn't nervous about the ring arriving. But all the changes were things he was getting a little nervous about.
"We started the mystery of planning the wedding and getting me out of the navy," said Bill. "The world was crashing around me. Getting out of the Navy, new job, married, new wife… all in a matter of weeks."
The couple didn't want a huge wedding so they dreamed up a very novel idea for the times – a destination wedding at a Vermont farmhouse owned by Jeanie's parents. The bridal dinner was held on Friday and the wedding on Saturday, July 3, 1954.
One week later, the couple moved to Peoria, Illinois, to begin their new life together. Bill had it all planned out: Monday they would find an apartment, Tuesday they would go buy furniture, Wednesday they would go to his parents' home in Iowa to pick up his things, Thursday they'd return to Peoria to get settled in time for him to start work the following Monday.
"I thought this will never work but it did: Monday we found an apartment, Tuesday we bought furniture, and Wednesday we were going to Iowa," said Jeanie of her husband's plans.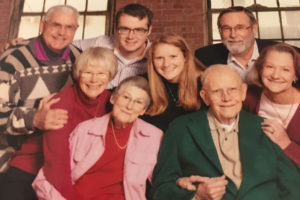 It's plans like these that have taken the couple on some adventures. They've visited all 50 U.S. state capitals. Bill divided the country up into sections so the couple could see the most possible in each trip. They also spent six years navigating the inland waterways of the United States while living together on a 42-foot boat. Each taking their turn at the helm.
"If you had asked me 65 years ago if we had done any of these things I would have said no but those were all Bill's idea and it's been great," added Jeanie.
Another one of Bill's ideas led Jeanie to her career. He asked Jeanie if she would do the family's tax returns one year and after that she was hooked. Eventually Jeanie opened her own business, where she still works today with their daughter who now owns the business.
When asked for marriage advice, Jeanie said, "You have to love and care for each other."
"That's the whole secret," agreed Bill.
"And we're good at keeping our mouth shut when we need to," added Jeanie.