Yoga, stretch, strength, balance, water aerobics, water volleyball, tai chi, bingo, card games, line dancing, Wii bowling. This is a short list of a few of the activities that take place at the Wilson Wellness Center at Lutheran Hillside Village, a Lutheran Senior Services (LSS) Life Plan Community, in Peoria, Illinois. Given all these opportunities, it makes sense why many residents are there every day during the week.
"I don't miss a day," said Hugo Hoerdeman, a Lutheran Hillside Village resident. "I'm there two or three times a day, seven days a week."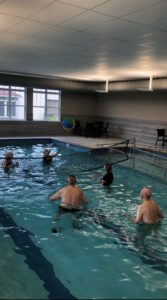 Hugo is there usually to exercise. He takes advantage of all of the new exercise equipment available to help stay fit. Staying active is especially important for older adults as it helps to maintain strength, improve balance, and more. Hugo also takes part in social events at the Wellness Center. He regularly calls bingo and takes part in the card games.
"I enjoy the company," he added.
The Wilson Wellness Center opened at Lutheran Hillside Village in 2020. Amenities at the center include an indoor saltwater pool, fitness and exercise rooms, a walking track, culinary arts kitchen, community room, a medical clinic, and a theatre. The Wellness Center was made possible through the generous donations of supporters.
Verna Hartman, another Lutheran Hillside Village resident, can be found at the Wellness Center at least six days a week. She's a regular at the aqua strength class as many participants stay after class to play water volleyball.
"The Wellness Center has really enhanced our lives," said Verna. "We have no excuse not to exercise – even when it's cold and nasty out."